Featured Topic: Miners and the Mining Industry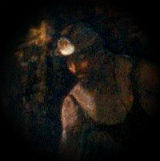 Koolen was a man who was socially involved. He was interested in the working class: the peasant life, the workers in the industry.
One of the interesting topics that are shown here is the mining industry and the work of the miners.
Around 1958 he made an extensive documentation consisting of paintings and drawings of the mining industry. He shows especially the very heavy work and life of the miner in narrow pillar rooms at the coal face.