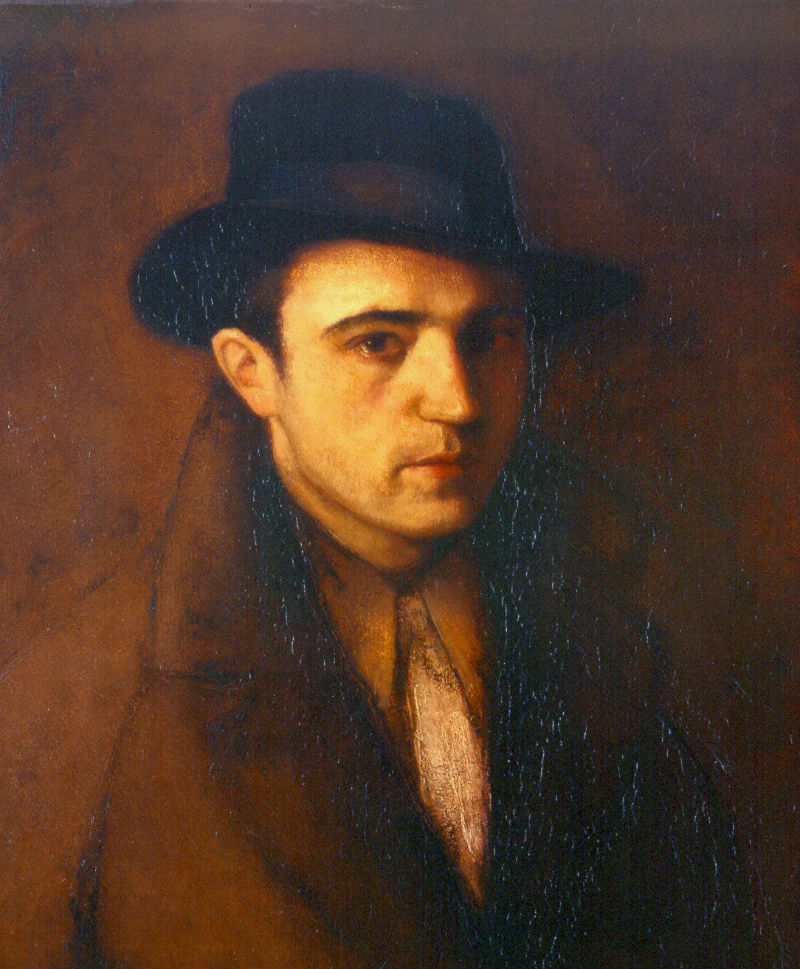 When Koolen began his training at the National Art Academy in Amsterdam, the art of painting had internationally started the search of new directions. In France the Fauves had created their colourful worlds and Picasso, Braque and Gris had already shown their cubist works; in Germany we find the activities of the "Blaue Reiter" and the expressionism of "Die Brücke". In 1910 Kandinsky had already shown his purely abstract work and in Italy modern life was celebrated in Futurism. Only few Dutchmen, however, were attracted by these currents; Kees van Dongen became a valued Fauve in Paris and Van Doesburg and Mondriaan went their own ways. Starting from 1913, Mondriaan had developed his horizontal-vertical purism from his tree studies.
However, such clashes with tradition were absent in places where artists were being trained in a conservative cultural environment. The professional training in drawing and painting even at the Academy of Amsterdam remained primarily based on natural expression. Anatomy, model and portrait studies occupied a central place in the curriculum. Most teachers in those days paid little or no attention to opening the eyes of their students for modern contemporary art. They were all very capable in drawing, painting of graphic art. Religious themes still stood in high regards. Charles Eyck won the "Prix de Rome" with his "Prodigal Son".
Only after graduation - depending on their personal temper and affinity for contemporary art - some if these artist became pioneers in pictorial arts. Others, however, like Koolen, remained inspired by visual reality and remained true to an art that impressed him as genuine and was, anyhow, based on pictorial craftsmanship.
There will always be realists, who are inspired by the richness of nature in all its manifestation. This also applies to those who are inclined to impressionism and even to romantics, dreamers of a better, idealistic, heroic world. Their attitude is based on lasting common human qualities with regard to figural expression of what nature offers them. It is not the exclusive right of modernists to be expressionistic or surrealistic. Just consider the impact of the so-called primitive art of the black people on their development and, with regard to the surrealist, historic figures as Arcimbaldo, Pironesi and Jeroen Bosch.
The fact that Harry Koolen, with all his qualities, remained true to himself, is directly related to his parentage and personal nature. He distrusted modern art if it failed to convey its content and especially when he perceived a lack of pictorial craftsmanship. He disliked mystification with regard to his work,- a painting should be self-explanatory for the attentive spectator and not only for the initiated. He considered his art a vocation, by which he had to convey his message. With regard to his religious work he once said: "It is not work that affects the sense, neither is it sacred with an aureole. They (the people) are far from understanding that this is the way that should lead to a renewal of religious life." He considered himself to be a Limburg painter: "Now in Limburg I feel strongly attracted to the people around me and want to depict them in their daily life". He was attracted by experiences of his youth. He painted Limburg landscapes, funerals, processions, folkloristic happenings, such as meetings of citizen soldiery. But he also felt that life in Limburg was threatened and even more life in the urban environment of Amsterdam. A kind of cultural pessimism became part of his view of life.
As regards his religious work, he was at first inspired by Flemish Primitives, such as Rogier van der Weyden; in his later works, e.g. "The Decapitation of Saint John the Baptist" ("Herod and Salome") he found inspiration in Rembrandt, but he also developed his own style, as in the paintings "The Judas-kiss" and "The Visitation".
His early work is mainly characterized by the use of a dark and sober coloration; umber and a dark mixture of colours are predominantly present. Later, during his further development, his colours become brighter and there is an increase in the use of colour accents.
Already from the beginning of his training period he showed a great interest in the human figure and especially in the expression of the face as a mirror of life. This found further stimulation, when he received the Thérèse Schwartze Prize for his professional capacity as portraitist. It meant the start of orders. Throughout his further life portraits reflect his growing technical abilities and the increase in the use of colours in his paintings. Though his aim was always to paint a good likeness in his portraits, he also wanted to express more than the physical resemblance. He related this as follows: he wished "to know the person behind his face". Later on he differentiated between perfunctory portraits and those in which he experienced a concern with the life of his subject. This often resulted in sympathy and, anyhow, in affinity and respect. This becomes evident in the many portraits of his mother and his two wives Ali Smit and Bep Mous, as well as in the portrait of Mrs. Meuwissen-Jaspar. This reverence is also expressed in the portrait of the simple country-woman. The warm feelings for personality find expression in the portrait of the actor Jo Sternheim, to be found in the portrait gallery in the Municipal Theatre of Amsterdam.
His self-registration in self-portraits reflects his development throughout his whole life: as a young man idealized like an almost Florentine nobleman, subsequently youthfully realistic and finally in his last portraits we see him as a mature, vulnerable but innerly unyielding man. In his paintings known as "Little Brides" he shows his sensitivity for immaculate female beauty: they are maidenly nymphlike creatures surrounded by an atmosphere of flowers and paradisiac indications of nature. This is also shown in drawings. A person who thus elevates nature to idealized reality has come close to the art of Symbolism. It was natural to him to look for a deeper idealistic reality beyond simple reality. The search after a profounded content also characterized him when he was engaged in work on a religious theme. He had a sensitive, vulnerable nature and when he was really concerned about something, it became impossible for him to do his work. He protected himself against quarrels in the world of art; he did not like self-exposure in public; he just wanted to be productive and hated to be disturbed. His best friends in the world of art were Hub Levigne, Henri Jonas and the most modest of all, Alfons Volders. He himself looked upon Willem van Konijnenburg as one of the most important artists. He may well have been inspired by the latter's work when he made a wall-painting in the abbey of Middelburg, but in his pictures he kept to his own style and way of approach. This is demonstrated by the large painting, in timeless silver-grey, "The woman with two children", a glorification of motherhood.
In 1954 he completed a commission to paint the history of mankind, a work he had accepted as a challenge, but the twelve huge paintings - six scenes from the Old and six from the New Testament - gave him great satisfaction. They became the most dramatized of all his works. "The Deluge", which is presented in the collection here, shows all the registers and facets of his figural talent. Long-drawn figures dominate in pain an triumph: they evoke reminiscences of the religious expression of El Greco.
This new development in his work is dearly visible and it was confined by his own words: "I have broken with the old Koolen". He considered these works to be a new impulse for his future work. Around 1958 he got a commission from the National Coal Mines to paint the mining industry and the workers in the mines. He made many sketches of miners, also during their underground work. They show his sympathy and admiration for the common workman. His miners become monuments of sturdiness and energy, their heads expressing human nobility.
Koolen has done numerous beautiful drawings throughout his life, not only as sketches for paintings, but also foremost for their own specific mode of expression. (It is the intention to devote a separate exhibition in the future especially to this part of his work.)