Note (before 1940) on the start of his training as a portrait painter
(A draft memorandum which is probably intended for an exhibition publication).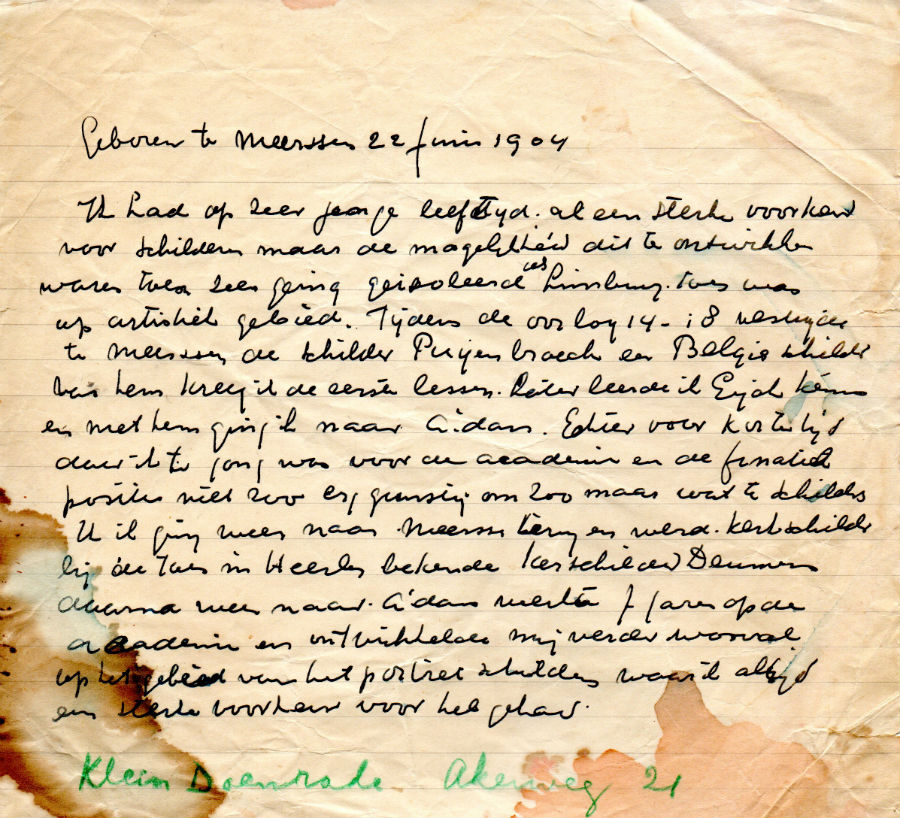 Geboren te Meerssen 22 juni 1904
Ik had op zeer jonge leeftijd al een sterke voorkeur voor schilderen maar de mogelijkheid dit te ontwikkelen waren toen zeer gering (in het ) geïsoleerde Limburg (zoals het) toen was op artistiek gebied. Tijdens de oorlog 14-18 vestigde te Meerssen de schilder (Jan van) Puyenbroeck, een Belgische schilder. Van hem kreeg ik de eerste lessen. Later leerde ik (Charles) Eyck kennen en met hem ging ik naar Amsterdam. Echter voor korte tijd daar ik te jong was voor een academie en de financiële positie niet zoo erg gunstig (was) om zoo maar wat te schilderen. Ik ging weer naar Meerssen terug en werd kerkschilder bij de toen in Heerlen bekende kerkschilder Deumens (*). Daarna weer naar Amsterdam, werkte 7 jaren op de academie en ontwikkelde mij verder vooral op het gebied van het portretschilderen waar ik altijd een sterke voorkeur voor heb gehad.
Born in Meerssen, june 22, 1904
At a very young age I had a strong preference for painting, but in that time the opportunity to develop this was very small in the artistically isolated Limburg. During the war 1914-18 the Belgium painter (Jan van) Puyenbroeck settled in Meerssen. From him I received the first lessons. Later I met (Charles) Eijck and with him I went to Amsterdam. However, for a short time because I was too young for the (National) Academy and my financial postition was not so very convenient to practice in painting. I went back to Meerssen and became a decorator of churches under the guidance of the then-known decorator Deumens in Heerlen (*). Back to Amsterdam I worked for seven years at the Academy and developed skills especially in the field of portrait painting, a strong predilection I've always had.
Klein Doenrade, Akerweg 21 (**)
(*) Guillaume Deumens from Venlo, painter and decorator of interiors including the Pancratius Church in Heerlen.
(**) Currently municipality Oirsbeek. The present house was built in 1934, it is questionable whether Koolen has lived here before or after that time.
Studio in the rocks of Geulhem, 1919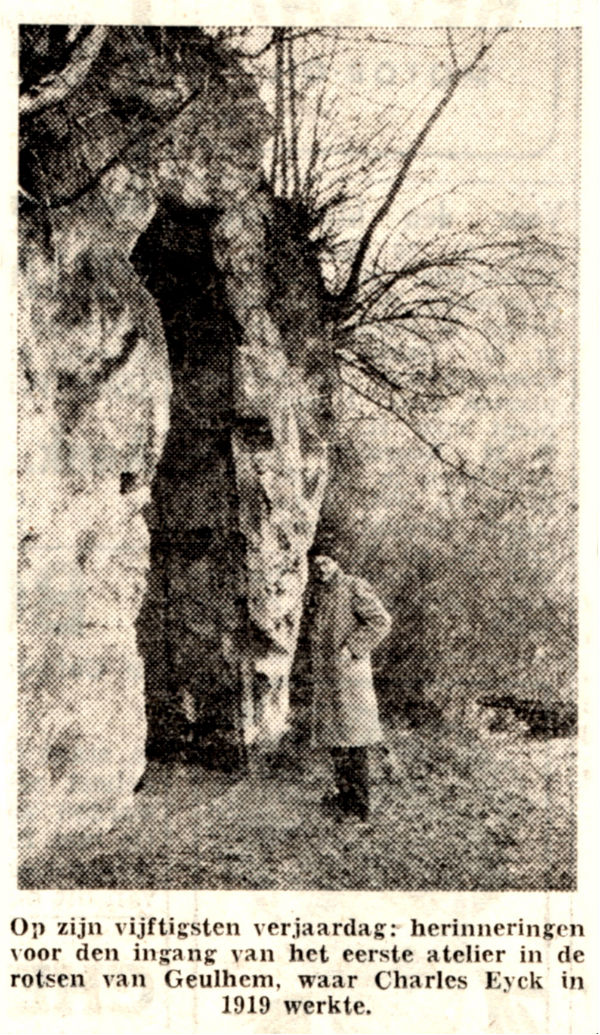 Memories of colleague Charles Eijck on the occasion of his fiftieth birthday (March 24, 1947).
Eyck's visit to the quarry in the limestone rocks of Geulhem (near Meerssen), a studio he shared with Koolen in 1919.
"...That time was beautiful and romantic... We were two vagabonds, Harry Koolen who was much younger and I. We were cavemen, the hermits of Geulhem."